---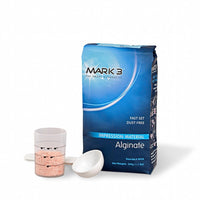 Price Point in Category: Low
Package Contents: 1.1lb Bag 
Manufacturer: Mark3
Country of Origin: USA
Product Description:
Faster mixing time, saves time.

Faster setting time, decreases chances of gag reflex.

Better tear and compression strength resulting in less tearing or deformation 

Dust Free

More material, 500 (1.1lbs) grams compare to 450 grams

9 days dimensional stability.
Tearing or deformation of alginate impressions can result in inaccuracy of gypsum casts that form the initial base for prosthetic appliances. Strength and elasticity of alginate impression materials are important characteristics determining the performance of these products.