---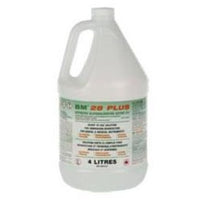 Price Point in Category: Medium
Price per Litre: $12.50
Package Contents: 4L Bottle
Manufacturer: B.M. Group
Country of Origin: Canada
Product Description: 
2% Glutaraldehyde Activated 28 day instrument disinfectant solution

Bactericidal, Tuberculocidal, Virucidal, Fungicidal, Pseudomonacidal, Sporicidal. 

Formulated ready for use with no mixing necessary.
Re-usable up to 28 days. Contains a corrosion inhibitor.
Lemon scented.
4 Litres
Active Ingredients : 2% glutaraldehyde
Application: Designed to disinfect and soak non critical instruments and objects before autoclaving or that can not be autoclaved.
Suggested Contact Time:
Soak for at least 40 minutes, and up to 10 hours of soaking if possible. Refer to label for full directions.