---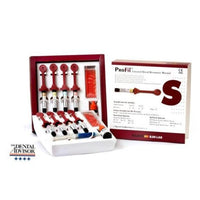 Price Point in Category: Low
Price per Gram: $12.5
Package Contents:  1 x 4g syringe 
Manufacturer: Silmet 
Country of Origin: Israel
Product Description: 
ProFil™, is a new packable micro hybrid composite material for use in both anterior and posterior restorations.

ProFil™ composite resin is the perfect combination of simplicity and exceptional esthetics.

ProFil Syringe 4g. Hybrid Composite designed to minimize polymerization shrinkage by high density inorganic fillers loading, thus shows excellent marginal sealing and surface texture. Features Micro Hybrid composite resin, latest in Nano technology

High strength and wear resistance
Physical Properties
ProFil™, a micro hybrid composite has outstanding physical properties that provide excellent wear resistance.
‍
Sensitivity to ambient light Above 100 sec.
Weight of total inorganic filler 78%
Volume of total inorganic filler 59%
Depth of cure > 1.5 mm
Compressive strength > 230 MPa
Flexural Strength > 120MPa
Water Absorption < 40 µg / Щ
Solubility < 7.5 µg / Щ
This product is registered for clinical use with Health Canada.