---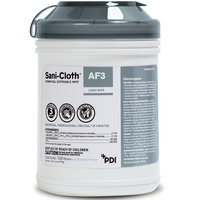 Price Point in Category: Medium
Price per Wipe: 
Single container: $0.31

Case of 6 containers: $0.28
Package Contents: Each container includes 65 wipes
Manufacturer: PDI (Nice-Pak) Products Canada
Country of Origin: USA
Product Description: 
Effective against 45 microorganisms in 3 minutes. Protecting your staff and patients has never been easier! Alcohol and fragrance free formula is ideal for use around patients, residents and staff, especially those with respiratory sensitivities.