---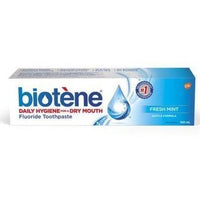 Price Point in Category: Medium
Price per Gram: $0.18
Package Contents: 100g
Manufacturer:  Biotene
Country of Origin: Canada
Product Description: 
When you have dry mouth, you need extra protection for your mouth and teeth with products that are formulated to be gentle. Biotène Fresh Mint Fluoride Toothpaste is specially formulated to be gentle. It contains fluoride to help strengthen your teeth and protect against cavities.
Essential fluoride tooth protection for people who need a mild toothpaste
Gentle formula
Freshens breath
Prevents cavities and reduces plaque
SLS-free
pH balanced
Biotène is the #1 Pharmacist, Dentist and Hygienist recommended brand for a Dry Mouth.