---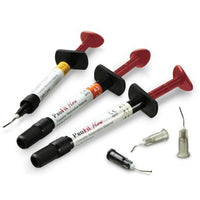 Price Point in Category: Low
Price per Gram: $13.75
Package Contents:  4 x 1g syringes
Manufacturer: Silmet 
Country of Origin: Israel
Product Description: 
Profil Flow by Silmet offers high compressive and tensile strength for optimal wear resistance based on the advanced resin technology of ProFil.
The excellent flowable consistency characteristics makes ProFil™ Flow an ideal composite for filling cavities.
ProFil™ Flow is available in more than 4 shades
ProFil Flow is a visible-light activated, radiopaque, flowable composite.
Physical Properties:
ProFil™, a micro hybrid composite has outstanding physical properties that provide excellent wear resistance.
Sensitivity to ambient light: Above 100 sec.
Weight of total inorganic filler: 78%
Volume of total inorganic filler: 59%
Depth of cure: 1.5 mm
Compressive strength: 230 MPa
Flexural Strength: 120MPa
Water Absorption: 40 µg / Щ
Solubility: 7.5 µg / Щ
This product is registered for clinical use with Health Canada.