---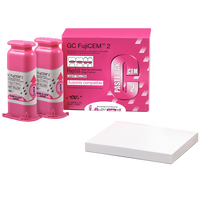 Price Point in Category: High
Price per Gram: $16.87
Package Contents: 2 x 13.3g per package
Manufacturer: GC America
Country of Origin: USA
Product Description: 
GC America's FujiCEM 2 is a second-generation luting cement.

It is a resin modified glass ionomer powered with F2 Flex Fuse Technology, having extra strength because of the novel high-elastic cross linking monomers along with an improved filler-surface treatment.

Its automix system makes paste pak dispensing as a consistent mix at all times. This will give you the confidence of placing a durable restoration every time.

Its fast set property and convenience of use, makes FujiCEM 2 by GC America an ideal luting cement for all indirect restorations.