---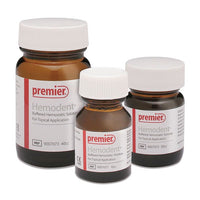 Price Point in Category: Medium
Price per ML:
10cc (10ml): 
20cc (20ml):
40cc (40ml):
Package Contents: 
10cc (10ml) jar
20cc (20ml) jar
40cc (40ml) jar
Manufacturer: Premier Dental
Country of Origin: United States
Product Description: 
Hemodent®

 

effectively stops minor gingival bleeding. It contains no epinephrine to help avoid cardiac reactions. Hemodent is stable and offers a long shelf life.
Recommended to arrest bleeding during tooth crown preparations, before dental impression taking, placing fillings, dental cement bases, or temporary cementing inlays or tooth crowns; also after minor dental surgery, curettage, gingivectomies, gingivoplastys and deep scaling.