---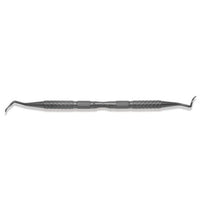 Price Point in Category: Medium
Price per Scaler: $40.00

Package Contents: 2/pk
Manufacturer: Premier Dental
Country of Origin: United States
Product Description: 
Implant Scalers from Premier, are strong enough to remove calculus deposits, but still leave the surface of the abutment smooth (see right). The instruments can be autoclaved for repeated use and can even be resharpened in the same manner as metal instruments. The high-density material leaves a crisp, clean edge to them after being sharpened, unlike other plastic instruments.

Premier Implant Scalers are made of a graphite material

Proven safe for use on titanium abutments.  

Dental clinicians can safely scale soft titanium abutments with the confidence that they are removing retained plaque without harming or scratching the titanium.