---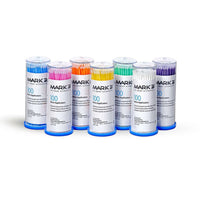 Price Point in Category: Low
Price per Brush: $0.06
Package Contents: 400/box
Manufacturer: Mark3
Country of Origin: United States
Product Description: 
Disposable Micro Applicators from MARK3 are designed for precise placement of dental materials such as, bond, etch, cavity liners, hemostatic agents, sealants and disclosing solutions. The non-linting, non absorbent fibers suspend material without dripping, minimizing waste.
Available in:

Regular (Blue Green, Orange & Purple)

Fine (Yellow & Pink)
Superfine (White)
Compare to Microbrushes.