---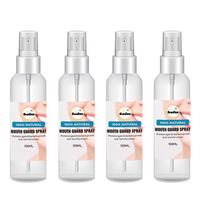 Price Point in Category: Medium
Price per ML: $0.12
Package Contents: 4 x 100ml bottles
Manufacturer: Sunbee
Country of Origin: Canada
Product Description: 
Sunbee's Mouthguard Spray is 100% natural and 10 times more effective than competing products. It can be used on any surface without leaving any residue.
Sunbee  offers the benefits of this product in the form of a 100ml. package size. It is portable and can be used anywhere in offices, schools, homes or playgrounds. This product does not release any harsh smells and is safe and easy to use.