---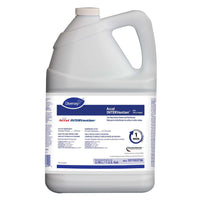 Price Point in Category: Medium
Price per Litre: 
3.78L single: $13.23
3.78L case: $11.57
946ml single: $15.86
946ml case: $14.98
Package Contents: 
3.78L single bottle
3.78L case: 4 bottles
946ml single bottle
946ml case: 12 bottles
Manufacturer: Diversey Canada 
Country of Origin: Canada
Product Description: 
Effective against key pathogens including MRSA, VRE, TB, Norovirus providing broad spectrum disinfection
Kills Norovirus, Poliovirus and bloodborne pathogens and is Tuberculocidal all in 1 minute.
30-second broad-spectrum sanitizer
Compatible with most hard, non-porous surfaces, while harnessing the power of AHP(R) technology. The AHP(R) active breaks down to oxygen and water after use.