---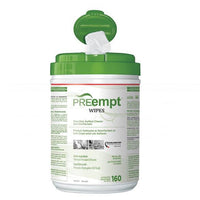 Price Point in Category: Low
Price per Wipe: $0.13
Package Contents: 160/container
Manufacturer: Contec
Country of Origin: Canada
Product Description: 
One step disinfectant wipes utilizing accelerated hydrogen peroxide as an active ingredient

For disinfection and cleaning of work stations, equipment, and other hard non-porous environmental surfaces.

PREempt RTU has a Broad-Spectrum Sanitizing Claim in 30 seconds as well as a Bactericidal and General Virucide and Tuberculocidal 3 minute kill claim.

It contains no Volatile Organic Compounds (VOCs ) and leaves minimal residues on surfaces once dry.

Made of low linting non-woven, meltblown polypropylene wipe material, ensuring even surface coverage and increasing the ability and efficiency of AHP® for fine particle removal.
Compare to Optim-33TB (same active ingredient).