---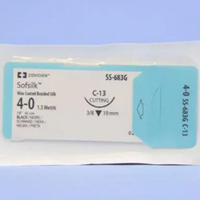 Price Point in Category: Low
Price per Suture: 
Package Contents: 
4-0: 12 sutures
5-0: 36 sutures
Manufacturer: Medtronic Canada
Country of Origin: Canada
Product Description: 
SOFSILK™ silk sutures are nonabsorbable, sterile, non-mutagenic surgical sutures composed of natural proteinaceous silk fibers called fibroin. This protein is derived from the domesticated silkworm species Bombyx mori of the family bombycidae. The silk fibers are treated to remove the naturally-occurring sericin gum, bleached and braided to produce SOFSILK™ surgical silk sutures. The braided sutures are available coated uniformly with silicone or wax to reduce capillarity and to increase surface lubricity to enhance handling characteristics, ease of passage through tissue and knot run-down properties. The manufacturing process, from braiding to coating, gives the suture superior softness and compliance for maximum surgical hand. The proprietary coating process provides smooth flow through tissue while maintaining optimal knot security.